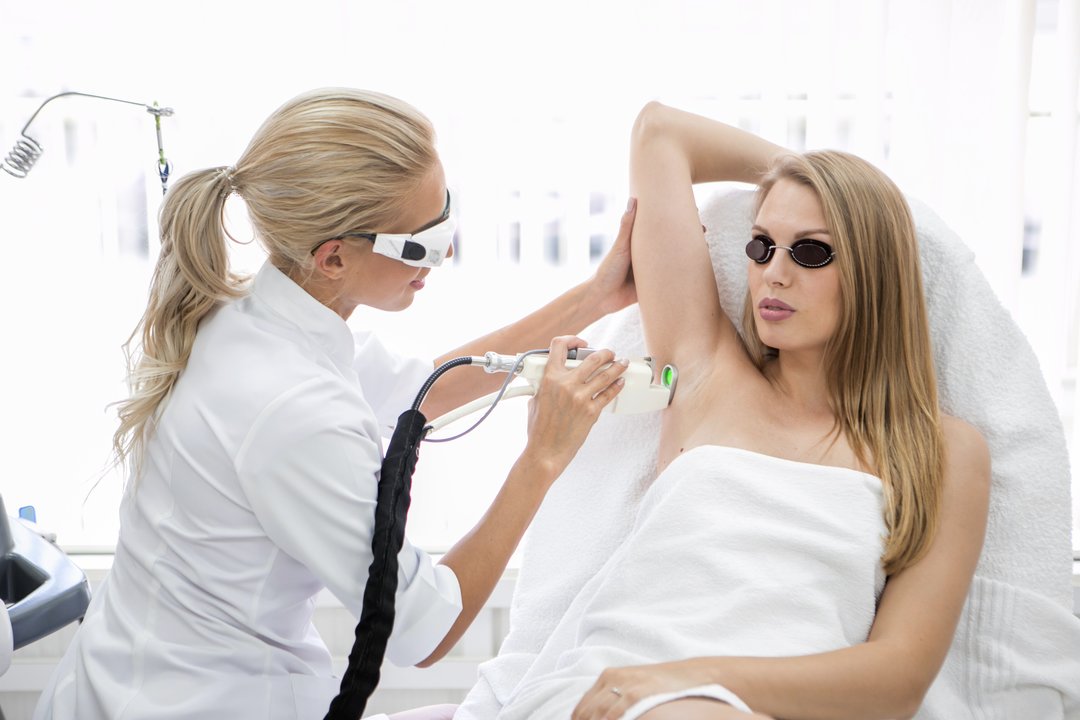 According to the results of a new survey, excess facial and body hair is the biggest concern among women with polycystic ovary syndrome (PCOS), with weight gain a close second.
London clinic group Pulse Light Clinic conducted an exclusive survey for Professional Beauty Group among its patient base who suffer from the condition.
78% said excess hair was a concern, with the subsequent most common symptoms being weight gain (57%), irregular periods (56%), thinning hair or hair loss (33%), and severe acne (18%).
65 percent have sought aesthetic treatments to alleviate their issues, the most common of which is laser hair removal (74 percent ).
Food intolerance tests and laser facials were among the answers.
Other responses included food intolerance tests and laser facials.
70% said these treatments helped ease their symptoms, and 81% said they had helped improve their confidence.
WHAT IS LASER HAIR REMOVAL?
Laser hair removal is a standard non-surgical esthetic treatment.
A concentrated beam of light points at the hair follicle. The hair's pigment absorbs the light, which then damages the follicle. This process impedes future growth. Because the results vary so much for each person, laser hair removal is considered semi-permanent.
Multiple variables affect laser hair removal outcomes, such as skin color, hair color, laser device used, the wavelength used, and treatment timing.
Excessive Hair
On darker skin tones, there are still some myths concerning laser hair removal. Machines significantly heated up both areas because earlier technology had difficulty distinguishing between hair follicles and surrounding skin. The outcomes were frequently unequal, ineffectual, or even harmful.
But that was then, and this is now.
Today's technology provides a variety of laser wavelengths that can be used safely and efficiently on most skin types. For darker skin, the 1,064 nm YAG laser is an excellent option. It can also be used to thin out regions where there is an abundance of hair.
On skin of color, intense pulsed light (IPL) and laser wavelengths other than 1,064 nm (such as 755/810 nm) should not be used. Some merchants will tout the safety and efficacy of their products on darker skin, but I believe it is too dangerous.
Some will tell you that it's totally safe to use on all skin colors as long as low settings are utilized (Fitzpatrick V-VI ) but based on personal experience, IPL has caused the majority of laser injuries that I've observed over the last decade on darker skin types.
It is always better to err on the side of caution and ensure that your laser technician is both adequately educated and experienced.
Ingrown Hairs and Razor Bumps
Many people with darker skin, especially those with curly hair, struggle with irritated hair follicles, which create these. Hyperpigmentation, discomfort, and keloid scarring can occur if the condition is managed incorrectly (or not treated at all).
Laser hair removal treatments are safe and effective for skin of all colors because they remove the hair follicle, which reduces inflammation.
Safety & Efficacy of Laser Hair Removal
Laser hair removal is a safe and effective procedure performed by a qualified, experienced medical professional.
This type of procedure has been used for many years and is generally very safe, although some mild side effects may occur in some patients.
Laser hair removal's most common side effects are redness, irritation, and temporary lightening or darkening of the skin.
The laser hair removal procedure works by sending a highly concentrated beam of light into the area where unwanted hair is located.
The light is absorbed by the pigment in the hair follicle, resulting in the hair being heated and destroyed. This procedure can remove unwanted hair from almost any body area, including the face, back, arms, leand the bikini line.
The most critical factor in determining the safety of laser hair removal is the type of laser used and the skill of the person performing the procedure.
Many different kinds of lasers are available, and the one that will be most effective for your procedure will depend on the color and thickness of your hair, as well as the skin type and color of your skin.
It is essential to ensure that the person you choose to perform the procedure is trained, certified, and experienced. This is because you will need the specific type of laser that will be used.
The risk of adverse reactions to laser hair removal is relatively low; however, to ensure your safety and peace of mind, it is advisable to talk to your doctor before starting the procedure.
Occasionally, a patch test may be advised before treatment on darker skin types to identify potential side effects. Additionally, inform your doctor of any medications you are taking, including any allergies or other health concerns you might have.
Before the procedure, the treatment area will be cleansed, and the hair will be trimmed or shaved. Depending on the size being treated, the patient may be required to wear unique protective eyewear.
Once the treatment area is prepared, the laser device will be adjusted to the correct settings, and the laser hair removal treatment can begin.
During the procedure, it is normal to feel slight discomfort due to the laser energy, such as a tingling sensation or a sensation of warmth.
Immediately after treatment, the area may feel slightly tender and red, however, this should subside within a few hours. In some cases, the skin may change color slightly, however this is typically only temporary.
Generally, results of laser hair removal are visible within a few weeks of the procedure, and with multiple treatments, most people can achieve permanent hair loss.
However, even with multiple treatments, some individuals may still have some hair regrowth in the treated area over time.
To ensure optimal results, it is important to follow post-treatment instructions, such as avoiding direct sunlight and using sunscreen with an SPF of 30 or higher.
Here's a checklist you can follow if you opt to use at-home laser hair devices instead.
In conclusion, laser hair removal is a safe and effective procedure for removing unwanted hair. While some risks are associated with this procedure, the likelihood of experiencing any permanent or lasting side effects is low. As long as the treatment is performed by a certified and experienced professional, it is generally a safe procedure.
References: